CONTEST PURRS IN A BOX I, value 36 euro
THIS CONTEST WAS CLOSED ON 9/2/15 at midnight.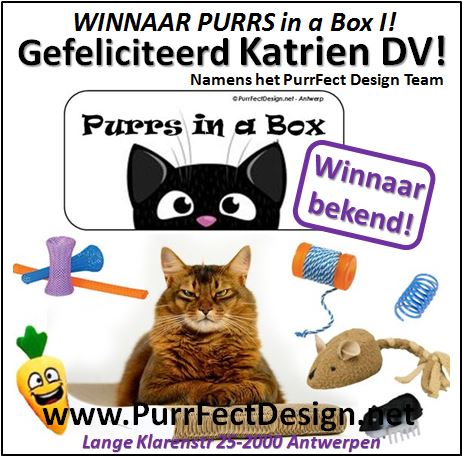 Enter the contest and win

the PURRS IN A BOX Gift Box I, 

with value

36 euro!
The Purrs in a Box Gift Box the ideal gift for your cat or for friends that have cats. Very nice Valentines gift!


Content Purrs in a Box Gift Box I:
- Mini Lounger, design cardboard scratch object. All cats love cardboard and like to sharpen their nails on it! These modern scratchers (black or white) are made entirely from solid and strong cardboard.
Dimensions: 26cm W x 60cm H x 4cm L
- Catch Me If You Can Robot Mouse: a real thrill for your cat! The vibrations make the Robot Mouse walk around the house ... exciting ...;-) Movie: click here
- Play-N-Squeak Braid-y-Cat: with the sound that is very simular to that of real mouse! Squeaks every time your cat touches it. Movie: Play-N-Squeak
- Petstages Spool with String: Spool with a though of catnip. The rubber coil bounces and the string encourages play. Safe alternative to the 'ball of wool'.
- Cat Spring Toy: This plastic toy rolls and jumps and stimulates your cat in an easy way!
- Kitty Boink: flexible braided nylon tube. Press them together between the fingers and shoot the Boinks across the room! Practice and you can make them dart away up to 10 meters ... Movie: click here
- Super Boink: The XL version of the Kitty Boink
- Frenzy Fruit MIX: Funny 'fruits' come with Power Mix: Combination of four herbs that cats love it: Nepeta cataria (catnip), Nepeta Mussini, Honeysuckle and Valerium officinalis (valerian)! It relaxes them and encourages them to play and frolic.
- Discount Coupon 5%* on the entire online PurrFect Design collection!


* Discount valid for 1 year on the entire online PurrFect Design collection, in the shop in Antwerp or online, excluding shipping cost and discounts can not be combined.

To participate

 

in the competition

:- Like our Facebook page:

            - you see the link to our FB page on the right side
            - or click on this link: 
https://www.facebook.com/PurrFectDesign
- 
Share our FaceBook-Page and the contest on your FaceBook account
(

do not forget to put your

privacy

setting to "

public

",

otherwise we can not

see you

shared it

)

- Send us an email to confirm your contest entry: info@PurrFectDesign.be
and put a link to
your FB account in the e-mail.
Don't forget to ad your adress in that email, so that we can ship the Gift box in Tuesday, if you are the winner. That way you should receive it by Valentine's day.
Good luck!!
The
competition ends at
 midnight
Monday 9th of Februari 2014.

Rules:
- you can enter the contest if you have a shipping address in European mainland or UK.
- The winner receives the won item at home. - 

Each

 

contestant can

 

participate

 

once, and has not unsubscribed to our newsletter in the past.

- 

The

 

winner

 

will be notified

on Tuesday 10th of Februari 2014.

- 

Participants in

 

the contest

 

automatically

 

subscribe

 

for

 

Purrfect

 

Design

 newsletter
- the prize can not be exchanged for cash or another product.