Ergonomic harness for dogs, handmade in Italy.
How to measure your cat or dog?
Always measure tightened sufficiently with the measuring tape so that you have the size of the actual and always if the dog or cat stands on four legs.
If the animal sits (or is lying down) you always get an inaccurate and to large measurement.

No measuring tape? You can also measure it with a rope and then measure the rope with measuring rod.





Als je hond te enthousiast is om zich te laten opmeten, wacht dan een rustig moment af.
Je kat vindt niet dat ze moet gemeten worden? Doe de meting dan enkele malen, tot dat je zeker bent dat je de juiste meting hebt.
If your dog is to excited to get measured, wait a quiet moment.
Your cat does not think she should be measured? Repeat the measurement a few times until you are sure you have the correct measurement.

Also read the 'Tre Ponti explained and sizing' for the type of harness you are looking for, for extra tips and information about choosing the best size.

For large sighthounds the choice of the correct size (preferably Forza, more info see 'Tre Ponti for Sighthounds') also depends on the model of the breast. In some the deep part of the chest goes much further than with others.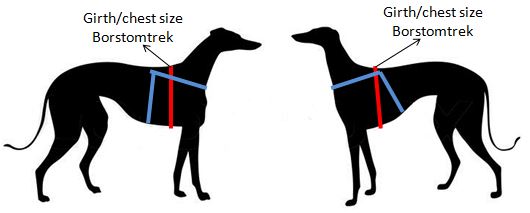 Compare the build of your sighthound with the above and keep this in mind when choosing the size.
For example, a greyhound with chest size (red line) eg 85cm and weight 28kg will need Forza size XL Forza if he has a long chest (left dog) and one size, but Forza size L with a short chest (right dog).

Small sighthounds: also keep this in mind that the harness often falls beyond the widest part of the breast: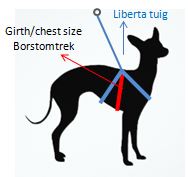 ©Milaya – PurrFect Design – Karin Weuts


ORDER your TRE PONTI HARNESS? CLICK HERE